Jakarta, CNBC Indonesia – The majority of women's narratives in the history of Indonesian independence on August 17, 1945 focus on the story of Fatmawati. The story emerged because Fatmawati was known as Sukarno's wife who automatically became Indonesia's first first lady. This fact clearly cannot be denied because her position as first lady is definitely in the spotlight.
Even so, without belittling Fatmawati's important role, historical narratives often forget the other female figure behind Sukarno's success. It was this woman who accompanied Sukarno from scratch and lived together in difficult times for decades, before finally separating two years before Indonesia's independence. The woman's name was Inggit Garnasih, born in Bandung and Sukarno's second wife.
Starting from boarding houses
Photo: Indonesia's first president Soekarno meeting French President General de Gaulle at the Elysée Palace, in Paris, France, on June 21, 1963. (File Photo – Gamma-Keystone via Getty Images/Keystone-France)
Sukarno's first meeting with Inggit took place in Bandung in 1920. At that time, Inggit (32) was the owner of the boarding house Sukarno was staying in. Meanwhile, Sukarno (21) is a student at the Technische Hoogeschool te Bandoeng, now the Bandung Institute of Technology. Neither of them are single individuals.
The boarding house mother already has a husband named Haji Sanusi. However, Inggit-Sanusi's relationship was not going well. Sanusi is too busy and rarely at home, so Inggit feels like she doesn't get enough attention.
While Sukarno already had a wife named Siti Oetari who lived in Surabaya. Because Sukarno was studying in Bandung, they had a long-distance relationship. So, you can say that in one boarding house there are two people who are de facto called singles. And this is where the story begins.
As the days passed, Sukarno and Inggit grew closer. They mingle with one another, show concern and share joy. Sukarno's life while in Bandung was taken care of by Inggit. The relationship between the two of them is not just a student-boarding housewife. Sukarno admitted his relationship was like brothers. Until finally there was one event that changed the romance story of the two.
"At first we waited. For months we waited and suddenly he was in my arms. Yes, that's what happened. I kissed him. He kissed me. Then I kissed him back and we fell in love with each other. And it all happened while he was still the wife of Sanusi and I the husband of Oetari," said Sukarno to Cindy Adams as outlined in Bung Karno: Mouthpiece of the Indonesian People (1965: 68).
It was from this incident that an important decision emerged in Sukarno's mind: to be sure to part with Oetari. Six months later, Sukarno returned Oetari to his parents, HOS Tjokroaminoto. Likewise, Inggit immediately divorced Sanusi. The two then married in Bandung in 1923 and started a difficult household.
Together in difficult times
When starting the marriage, Sukarno was fiercely criticizing the colonial government. His various loud speeches and opinions caught the attention of many people, so the government took firm action. As a result, Sukarno was arrested. Initially he was detained in Banceuy Prison and then moved to Sukamiskin Prison. In these difficult times, Inggit always accompanies me. He never retreated an inch from Sukarno's side. For Inggit, as a wife, she must also accompany her husband's struggles in any condition. Including taking on the role of head of the family.
As described The Uncensored of Bung Karno (2016), Inggit was known to do herbal medicine, cigarettes and was an itinerant tailor. All profits earned were not used to provide for his own life, Sukarno was also in prison. Armed with the money from trading he was able to visit Sukarno frequently. It was recorded that she came twice a week to travel on foot while carrying entrusted goods for her husband, from food to books. During the visit Inggit chatted intensely with Sukarno before finally being separated by visiting hours.
This activity then became a weekly routine that Inggit always did to accompany her husband in prison. In fact, when Sukarno was exiled to Flores (1933) and Bengkulu (1938), Inggit was always by his side for many years. Since the beginning of their marriage to living in Bengkulu, the two of them have been in a relationship for 15 years.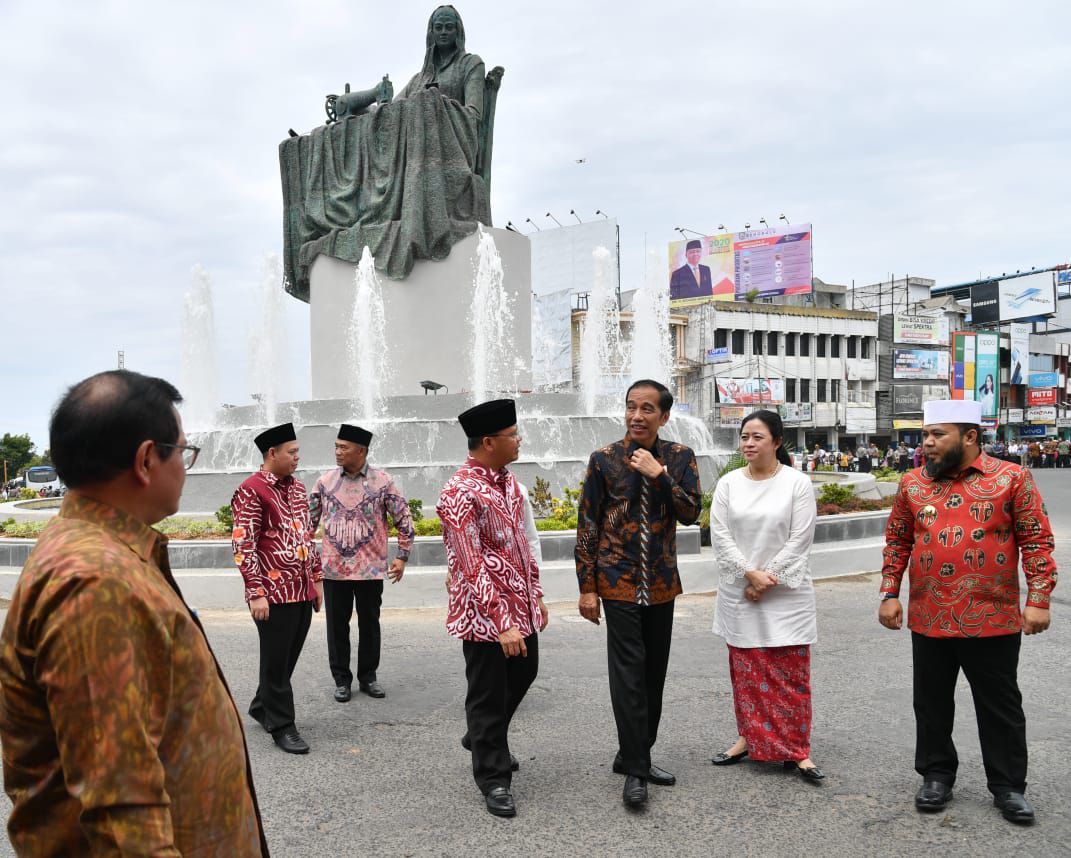 Photo: President Joko Widodo inaugurated the National Hero Monument, Ibu Agung Hj. Fatmawati Sukarno at Ratu Samban Simpang Lima, Bengkulu City, on Wednesday, 5 February 2020. (Laily Rachev – Press Bureau of the Presidential Secretariat)
It was while living in Bengkulu that Sukarno became acquainted with the daughter of a Muhammadiyah leader who was also his student, Fatmawati. Initially, the relationship was limited to teacher and student. However, still quoting the book by Cindy Adams, Sukarno admitted that his relationship with Fatmawati had begun to change.
Long story short, a feeling of liking emerged from Sukarno to Fatmawati. The reason is not Fatmawati's beauty, but also the desire of the 1st Indonesian president to have biological children. Because, for almost 20 years with Inggit, he has not been blessed with biological children.
"My wife is approaching 53 years old. I am still young, full of vitality, and entering the best age at the peak of life. I want children. My wife cannot give them to me. I want the joy of life. Inggit no longer thinks about such matters," said Sukarno, who was then 37 years old, to Cindy Adams (1965: 171).
Sukarno then asked Inggit for permission to marry Fatmawati. Obviously, Inggit refused and did not want to be mixed up with any of Sukarno's advances. Since then the super difficult journey of the Sukarno-Inggit household for 20 years ended in 1943, two years before Indonesia's independence.
Inggit then rushed back to Bandung. If Sukarno had not turned his back, Inggit would have been listed as Indonesia's first first lady. Even so, many people call Inggit the 'mother of independence' because of the big role behind Bung Karno's success. No wonder some time ago Inggit was proposed to be a national hero.
[Gambas:Video CNBC]
(mfa/mfa)