Jakarta, CNBC Indonesia – Apple released the latest iPhone 15 lineup with several updates from its predecessors. One of the big changes to the series this time around is that the company is removing usage lightning port and replace it with USB-C.
The main reason behind this change is a regulation from the European parliament which requires that all electronic goods sold in the region must use USB-C. This policy will take effect at the end of 2024.
The European Union argues that the regulation is to reduce electronic waste and give consumers the freedom to make sustainable choices.
Apart from that, this regulation will also eliminate the effect of technology lock-in, where consumers depend on only one producer.
It is clear that this rule is a threat to Apple because so far the iPhone still uses the Lightning port in its previous series. On the other hand, most Android cellphones have followed these rules long before.
Thus, the era of the lightning port that has been around, officially ends. Now the iPhone 15, iPhone 15 Plus, iPhone 15 Pro and iPhone 15 Pro Max officially use USB-C.
Photo: Apple
iPhone 15 Pro and Pro Max
USB-C special on iPhone 15 Pro
USB-C further simplifies wired connections across Apple's extensive product lineup. However, even though they both use USB-C, there are differences in the embedded technology between the iPhone 15 Pro and iPhone 15 versions.
While all iPhone 15 models switch to a USB-C connector, only the iPhone 15 Pro and iPhone 15 Pro Max, feature the necessary USB controllers to support faster USB 3 speeds. This is thanks to the A17 Pro chip embedded in the series.
This means that, outside of the iPhone 15 Pro, all other iPhones still have the slower 480Mbps USB 2 speed.
But faster capabilities aren't the only benefit of USB 3 connectivity on the iPhone 15 Pro.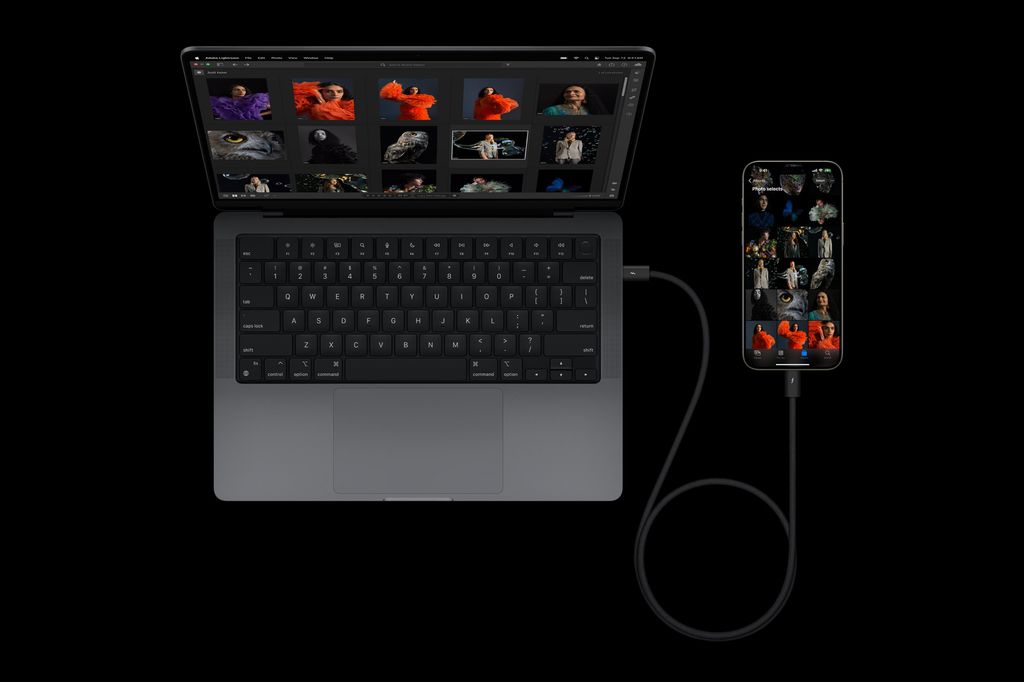 Photo: Apple dock
iPhone 15 with USB-C
USB 3 support means the iPhone 15 Pro will support much faster data communications between Mac and iPhone. Faster data communications allow users to transfer large Apple ProRAW photos or ProRes videos in a faster time frame.
However, there is a catch. Apple doesn't include a USB 3-capable cable with the iPhone 15 Pro, so users will still be switched to USB 2 speeds if they use the included 1-meter USB-C charging cable. Therefore, consumers must purchase their own cables.
Additionally, for the first time users can now record ProRes video directly to an SSD. This is similar to what mirrorless camera devices like the Blackmagic Pocket Cinema have in allowing videographers to record footage to an external SSD.
ProRes videos are notoriously large, and even 1 TB iPhone models can quickly fill up storage space when recording a lot of ProRes videos.
To record video with maximum quality and top speed, an external SSD kit is a must.
The Apple iPhone 15 Pro also comes with another exclusive capability, namely the ability to move Apple ProRAW photos directly to a Mac via a USB-C cable connection.
For studio photographers using the iPhone 15 Pro as their primary camera, you can use the Capture One photography suite to shoot and instantly transfer 48MP ProRAW photos directly to your Mac.
Of course, if you want to maximize USB-C connectivity, you should choose the iPhone 15 Pro. Only it lets you do things like move photos directly to your Mac, record video directly to an external SSD, connect to a 4K display, and more.
For the regular iPhone 15, you'll still get the benefits of a physical USB-C connector but without all the benefits that USB 3 support brings.
[Gambas:Video CNBC]
(dem)